Bâches en polyéthylène noir et argenté à usage intensif
Nos bâches en polyéthylène noir argenté sont fabriquées à partir d'un matériau en polyéthylène très résistant avec des fibres de 1200 deniers, qui sont parfaites pour les utilisations extérieures. Nos bâches en poly noir et argent ont une épaisseur de 10 mils, 6 oz par yard carré, et un tissage de 14 x 14 avec un matériau à 3 plis qui les rend ultra durables et résistantes aux déchirures, tandis que les coins et les ourlets renforcés avec une corde ajoutent une couche supplémentaire de protection.
Les œillets en aluminium tous les 18 pouces vous offrent de nombreux endroits où les attacher et les coutures thermosoudées garantissent qu'ils ne se défont pas. Ces bâches sont coupées en taille, ce qui signifie qu'elles sont légèrement plus petites que la taille finale.
Factory Workshop
Shandong Roc Tarp New Material Technology Co., Ltd is one of the leading PE tarpaulin manufacturers in China. We supply PE tarpaulin rolls and sheets for our clients. Moreover, have the customization capability to meet your specifications.
Our factory covers an area of more than 31,000 square meters, a total existing staff of 95 people, including 5 senior engineers, junior technical staff of nearly 20 people, and set research, development, and productivity as one.
We are well-equipped with 65 water jet loom machines, 2 plastic double die wire drawing machines, 1 laminating machine, and 2 large automatic stitching machines. Using these tools, we are able to provide a high number of products without ever compromising our incredible quality.
We carry a complete line of tarpaulins, including PE tarps, PVC tarps, heavy-duty, waterproof, HDPE tarpaulins, rolls, sheets, and custom
Tarpaulin Manufacturing
Tarpaulin Packaging
Custom Tarps Service
ROC tarp has a wide selection of poly tarpaulins, however, you might not be able to find an exact size to fit your application. We offer customized services, from sizes, colors, and thicknesses.
Just fill out the custom tarp form, and our customer representative will contact you with an estimate.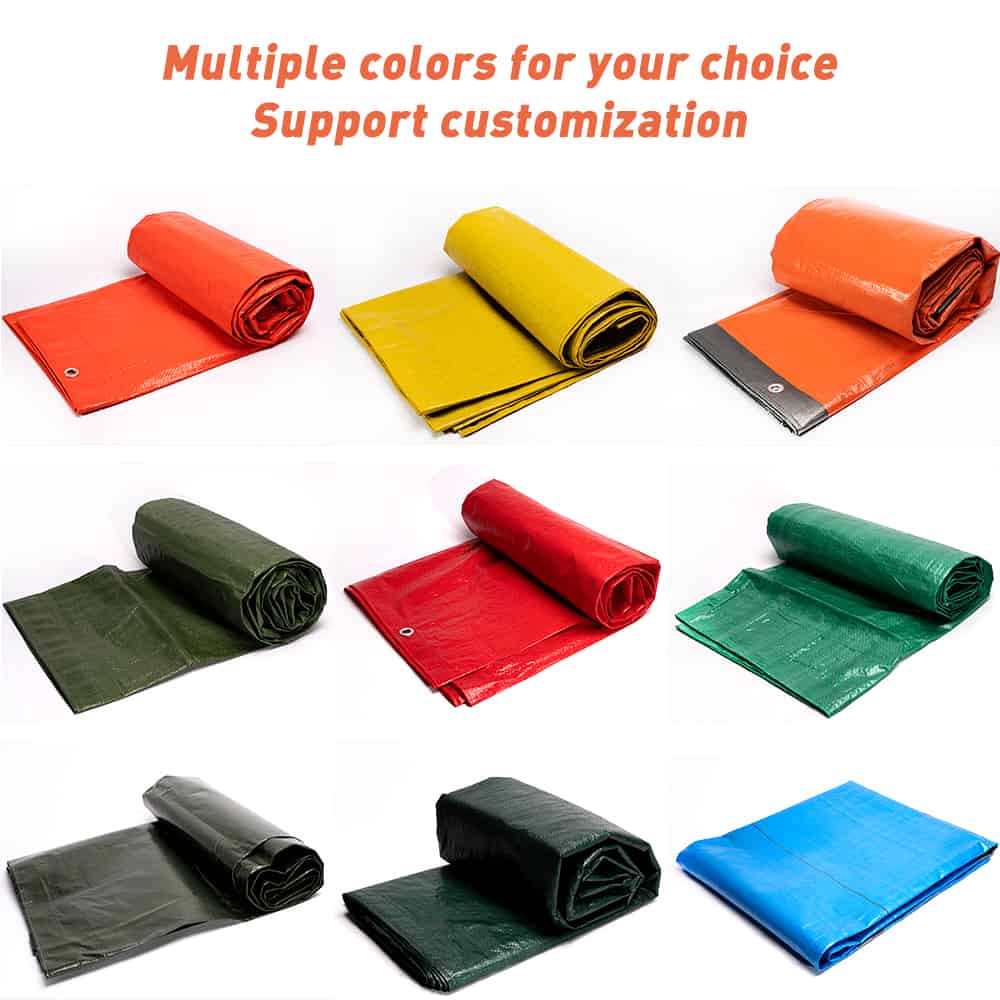 Specifications
Categories
PE Tarpaulin
Material Fabric
Polyethylene (Inner HDPE Woven Fabric, LDPE laminated both sides)
Weight
40~450 GSM(Grams/Sq.Meter) 1.18~13.27 OZ/yd2(ounce/Sq.Yard)
Regular Size
2x3m, 3x4m, 3x5m, 4x5m, 4x6m, 5x8m, 6x8m, 6x10m, 2.5×3.6m, 3.6×5.4m, 5.4×7.2m, 7.2x9m, 10x50m (6x8ft, 8x8ft, 8x10ft, 10x10ft, 10x16ft, 12x12ft, 14x14ft, 15x15ft)
Denier
600D ~ 1500D
Density (Woven Mesh)
6×6, 7×7, 8×8, 9×9, 10×10, 11×11, 12×12, 13×13, 14×14, 15×15, 16×16, 17×17, 18×18
Width
1.83m(72inches), 2m
Length
Sheet 4m,5m and 8m; Roll 27.5m(30yards),40m and 55m
Thickness
5~16 Mil
Color
Blue, Orange, White, Green, Black, Silver, Stripes
MOQ
5 Tons
Container Loading Capacity
By Roll:17 Tons/20'GP
By Bale:12 Tons/20'GP
By Carton:9 Tons/20'GP
Capacity/Month

2000 Tons