Lonas de poliéster azules
Una lona de polietileno azul es un tipo de cubierta impermeable y resistente a la intemperie fabricada con un material llamado polietileno. Suele ser de color azul, aunque también puede encontrarse en otros colores como verde, plateado y marrón. Las lonas de poliéster azules se utilizan habitualmente en diversas aplicaciones, como la construcción, el paisajismo y los eventos al aire libre. Son conocidas por su durabilidad y versatilidad, ya que pueden utilizarse para cubrir y proteger una amplia gama de artículos, como maquinaria, vehículos y materiales de construcción. También son fáciles de limpiar y mantener, lo que las convierte en una opción popular para quienes necesitan una solución de lona fiable y rentable.
Factory Workshop
Shandong Roc Tarp New Material Technology Co., Ltd is one of the leading PE tarpaulin manufacturers in China. We supply PE tarpaulin rolls and sheets for our clients. Moreover, have the customization capability to meet your specifications.
Our factory covers an area of more than 31,000 square meters, a total existing staff of 95 people, including 5 senior engineers, junior technical staff of nearly 20 people, and set research, development, and productivity as one.
We are well-equipped with 65 water jet loom machines, 2 plastic double die wire drawing machines, 1 laminating machine, and 2 large automatic stitching machines. Using these tools, we are able to provide a high number of products without ever compromising our incredible quality.
We carry a complete line of tarpaulins, including PE tarps, PVC tarps, heavy-duty, waterproof, HDPE tarpaulins, rolls, sheets, and custom
Tarpaulin Manufacturing
Tarpaulin Packaging
Custom Tarps Service
ROC tarp has a wide selection of poly tarpaulins, however, you might not be able to find an exact size to fit your application. We offer customized services, from sizes, colors, and thicknesses.
Just fill out the custom tarp form, and our customer representative will contact you with an estimate.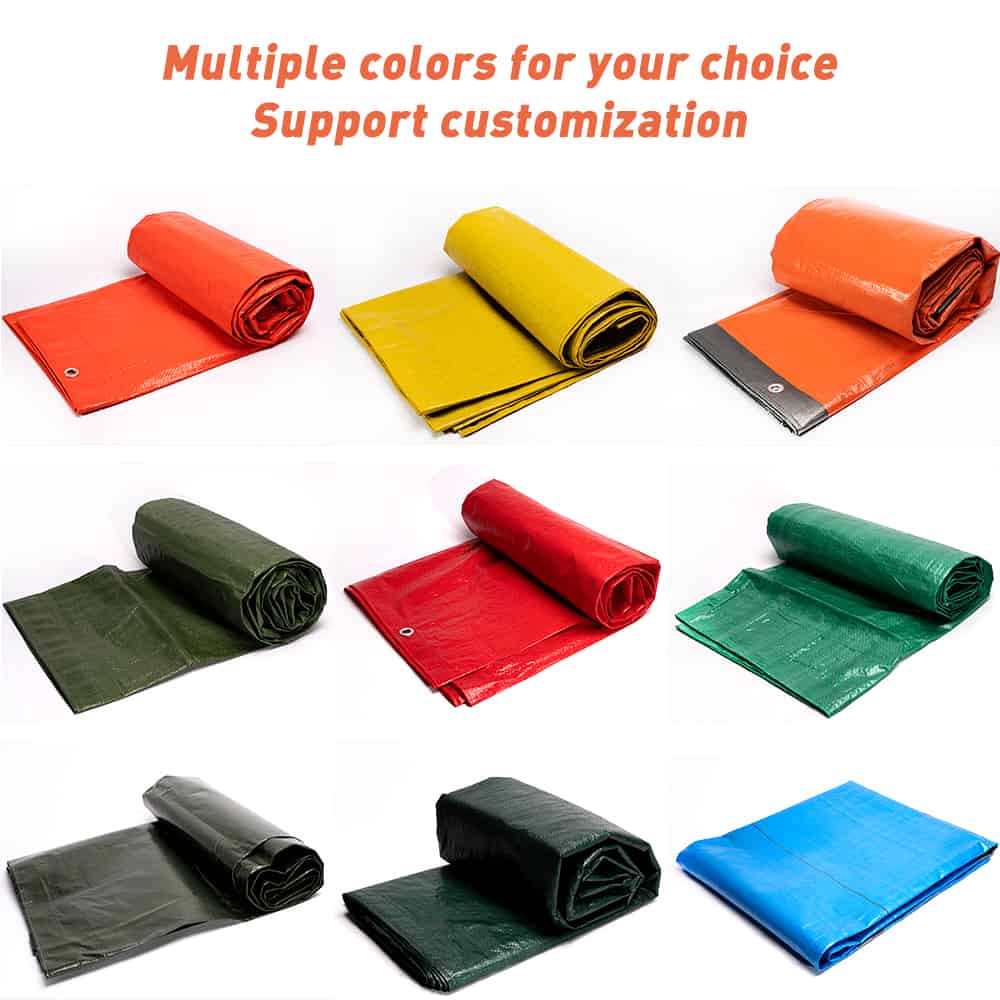 Specifications
Categories
PE Tarpaulin
Material Fabric
Polyethylene (Inner HDPE Woven Fabric, LDPE laminated both sides)
Weight
40~450 GSM(Grams/Sq.Meter) 1.18~13.27 OZ/yd2(ounce/Sq.Yard)
Regular Size
2x3m, 3x4m, 3x5m, 4x5m, 4x6m, 5x8m, 6x8m, 6x10m, 2.5×3.6m, 3.6×5.4m, 5.4×7.2m, 7.2x9m, 10x50m (6x8ft, 8x8ft, 8x10ft, 10x10ft, 10x16ft, 12x12ft, 14x14ft, 15x15ft)
Denier
600D ~ 1500D
Density (Woven Mesh)
6×6, 7×7, 8×8, 9×9, 10×10, 11×11, 12×12, 13×13, 14×14, 15×15, 16×16, 17×17, 18×18
Width
1.83m(72inches), 2m
Length
Sheet 4m,5m and 8m; Roll 27.5m(30yards),40m and 55m
Thickness
5~16 Mil
Color
Blue, Orange, White, Green, Black, Silver, Stripes
MOQ
5 Tons
Container Loading Capacity
By Roll:17 Tons/20'GP
By Bale:12 Tons/20'GP
By Carton:9 Tons/20'GP
Capacity/Month

2000 Tons